ACG Analytics
Catalyst Calendar
Main Calendar Month View available on desktop only.
---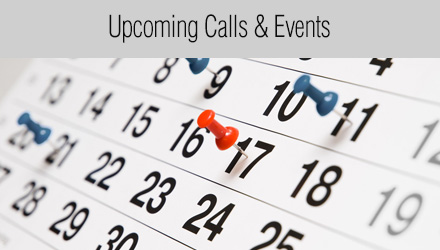 ACGA+ Policy Call: Politics is Science: Elections Forecast and Pre-Debate Analysis with Civiqs' Drew Linzer
October 18, 2016 @ 4:00 pm
EDT
RSVP is required to participate on this call. Please email Gabriella at heffesse@acg-analytics.com by 12:00 p.m. on Monday, October 17th to register.
ACGA+ Policy Call: Politics is Science: Elections Forecast and Pre-Debate Analysis with Civiqs' Drew Linzer
ACG Analytics cordially invites you to join us for a discussion on the latest polling regarding the 2016 Presidential election, as well as our predictions for the third and final Presidential debate.
Our speaker will be Drew Linzer, pollster and election forecaster from Civiqs and the Daily Kos. Mr. Linzer has been more accurate than 538's Nate Silver in the past three elections, and will give a state of the race, Presidential/Senate/House forecast and discuss the potential paths to victory for both Trump and Clinton, based on polling. He will also discuss the scope of opinion research currently occurring at Civiqs, and the technology and methodologies behind it. He will be joined by ACGA's Director of Research John East. The call will be moderated by former Senate Banking Committee Chief Economist, and a special adviser to ACGA, Aaron Klein, and Larry McDonald, Managing Director, Head of Global Macro Strategy at ACGA. The call will be held:
Tuesday, October 18th, at 4:00 p.m. Eastern Time
Participant Dial-In
(844) 205-1403 (toll-free)
+1 (928) 328-1303 (toll/international)
Please inform the moderator that you are dialing in for Conference ID: ELECTIONS FORECAST
Please feel free to forward this invitation to others on your team who may be interested.
Add to Calendar: Outlook – Google – Yahoo – Outlook.com – Apple Calendar
Biographies:
Drew Linzer, Ph.D. is the Chief Scientist, Director, and co-founder of Civiqs, a full-service online polling firm based in Oakland, CA. A statistician and survey expert, Drew was previously a Professor of Political Science at Emory University. In 2012, Drew ran the election forecasting site votamatic.org. His election forecasts can currently be found at Daily Kos Elections, and have been featured in The Upshot at the New York Times. Drew's research has appeared in journals including the American Political Science Review, the Journal of the American Statistical Association, and the International Journal of Forecasting.
Aaron Klein served as Deputy Assistant Secretary of the Treasury Department for economic policy under Secretary Tim Geithner. Prior to his appointment he served as Chief Economist of the Senate Banking, Housing and Urban Affairs Committee, for Chairmen Chris Dodd (D-CT) and Paul Sarbanes (D-MD). He led the Committee's economic policy agenda which included oversight over the Federal Reserve and the Council of Economic Advisers.
Lawrence McDonald serves as Managing Director, Head of Global Macro Strategy at ACGA. Prior to joining ACGA, Larry wrote the New York Times bestselling book, A Colossal Failure of Common Sense: The Inside Story of the Collapse of Lehman Brothers. From 2004-2008 Larry was Vice President of Distressed Debt and Convertible Securities at Lehman Brothers. Larry served as Managing Director, Head of US Global Macro Strategy at Societe Generale from 2011-2016. He is a frequent CNBC contributor and has delivered over 100 keynote speeches in 17 different countries since publishing his book.
John East is the Director of Research for ACG Analytics. John formerly served as a liaison to the Senate Health, Education, Labor & Pensions ("HELP") Committee for Senator Wayne Allard (R-CO). Previously, he worked as an aide to Senator Richard Shelby (R-AL), the Chairman of the Senate Banking, Housing & Urban Affairs Committee. For the Committee, John focused on check, credit card and electronic payments, Federal Reserve oversight and housing. John brings financial sector, healthcare and Congressional affairs expertise to ACG. John has worked on numerous campaigns across the country, from state legislative, gubernatorial and ballot initiative campaigns, to House and Senate campaigns.